David Oistrakh was one of the preeminent and most renowned Soviet violinists of the 20th century.

Born in Odessa, Ukraine (then the Russian Empire), on September 30, 1908 he began his studies of the Violin at the age of five. He was a pupil of eminent Soviet pedagogue Pyotr Stolyarsky and studied for a number of years at the Stolyarsky School before entering the Odessa Conservatory in 1923. It was during this time that he became close friends with another great Odessian born violinist, Nathan Milstein.

Oistrakh moved to Moscow in 1927 and commenced teaching at the Moscow Conservatory in 1934 where he was awarded the role of professor in 1939. During his long and distinguished career Oistrakh received many accolades including the Stalin Prize in 1943, People's Artist of the USSR in 1953, and the Lenin Prize in 1960.
The Belgian-born French conductor André Cluytens was highly regarded for his interpretations of German/Austrian repertoire, having conducted the Beethoven symphony cycle with both the Berlin Philharmonic and Paris Conservatoire Orchestra, where we went on to become principle conductor. Other notable engagements include his famous performance of Wagner's Tannhäuser at the Bayreuth Festival 1955 He was the very first conductor of French nationality to conduct at the Bayreuth, again showing his natural and open minded attitude to the Germanic musical form.
Beethoven's masterpiece; the highly coveted violin concerto is firmly accepted as one of his greatest compositions. It was in fact Beethoven's only concerto written for the Violin. Composed in just a few weeks in the Winter of 1806 it was premiered immediately after completion on 23 December the same year with Austrian violinist Franz Clement. Interestingly the debut performance of the violin concerto was not well received, and it disappeared into obscurity for many years until revived by the now legendary Hungrian violinist, Joseph Joachim in 1844 with the London Philharmonic Society conducted by Felix Mendelssohn.
Oistrakh's balance of technicality and romanticism in his delivery is played to perfection. Cluytens, being one of the greatest Beethoven interpreters conducts the perfect backdrop with the Orchestre National De La Radiodiffusion Française; solid and dignified rather than flashy, allowing space for Oistrakh violin to ascend majestically.
Cut from the Original stereo master tapes through our all valve Lyrec/Ortofon system. Priced at 350 sterling and limited to 300 copies. Order here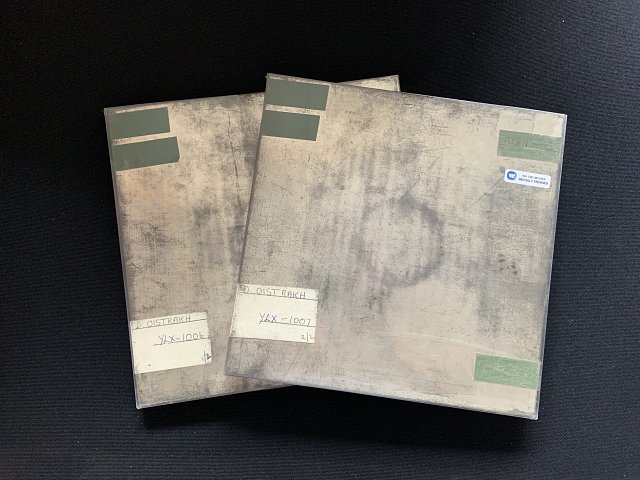 Original Master Tapes.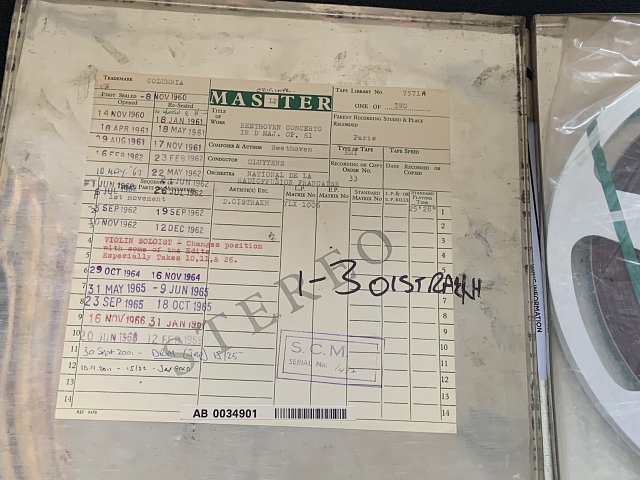 Original Master Tape (Detail).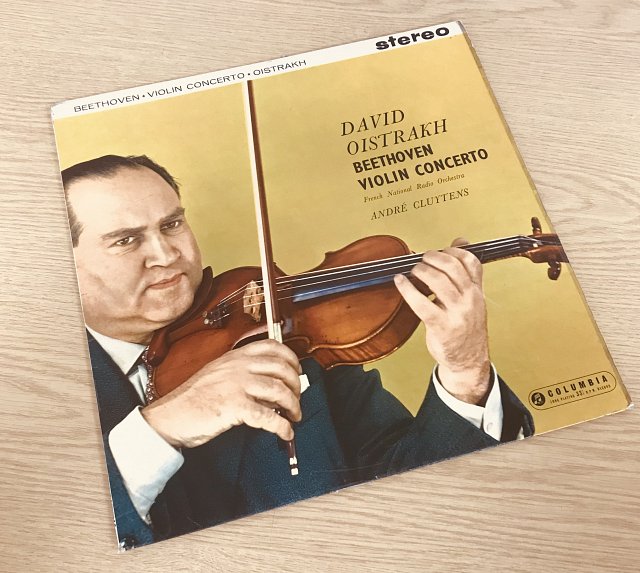 Original sleeve (front).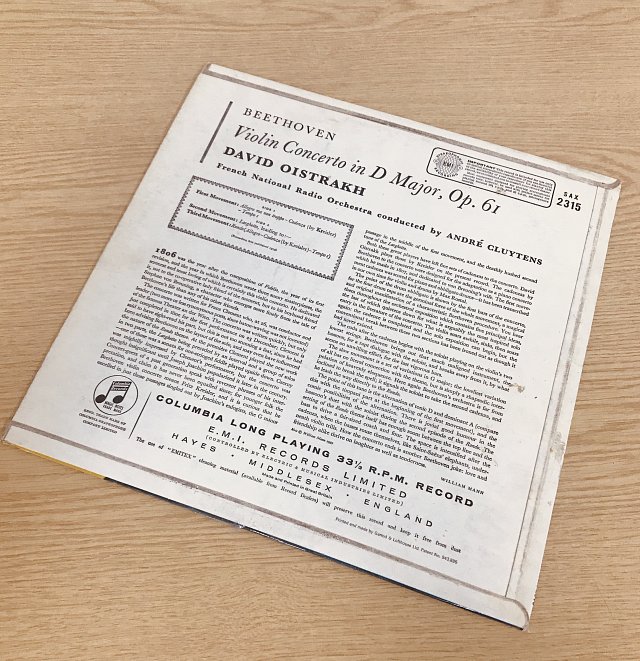 Original sleeve (rear).